(You can view the fun events of the 2016 Winter by clicking HERE)
* Thanksgiving Dinner was again enjoyed at the home of Buffy's sister Irened with a gathering of family and friends. The photo below represents the continuation of a traditon that all enjoy.


Buffy & John (back rigtht), brother Mickey (center back), Couch: brother Dennis (left), sisters Irene (3rd from right), Arlene (2nd right)

*
The Crystal Cup Championship was held October 20th with both Buffy and John qualifying. When all was concluded, Buffy ended the season 3rd in the Ladies Division and John 5th in the Senior Men's Division. Two days later we headed for a well earned vacation in one of our favorite places in the world, St. John in the US Virgin Islands. It was heavenly.
| | |
| --- | --- |
| Buffy takes 3rd Place for Ladies in the 2016 Crystal Cup with Mark and Kevin | Buffy & John enjoying a St. John dinner on the deck at St. John US Virgin Islands |
* Well we did it. The last Crystal Cup Qualifier was played in September, and Buffy & John won the Couples Division to qualify for the end of the year championship. It was also fun to take advantage of the free romantic evinging at the Grand Cascades Hotel won by Buffy during the golf season. More photos of the Crystal Springs Qualifier can be seen by clicking HERE.
| | |
| --- | --- |
| Eric & Dan congratulate Buffy & John's Couples Division Win | Buffy & John clebrate a romantic evening at Grand Cascades Hotel |
* Well she did it. John has been taking his camera when the two play golf expecting that Buffy would get a hole-in-one. He wanted to be able to record the event when it occurred. On Sunday, September 25, 2016 golf history was made. Buffy scored her 1st hole-in-one on the par 3 2nd hole of the Wild Turkey Golf Club and John was able to photograph the event.
| | |
| --- | --- |
| Buffy retrieves her golf ball from the cup after hitting her 1st hole-in-one | Crystal Springs' Adam Donlin, Katie Levins & John congratulate Buffy |
* A highlight of the summer was the visit of our Olympian friend Michael Voudouras following his return from the Summer Olympics in Rio. Another memorable event was dinner at the outdoor restaurant called the Chef's Garden located at the lower level of the Grand Cascades Hotel at the Crystal Springs Resort.
| | |
| --- | --- |
| Buffy & John toast Olympian friend Michael Voudouras with Rio Olympic cups | Buffy & John with the staff at beautiful Chef's Gardein followng golf and dinner |
*
Hard to believe it is September and another Anniversary which we routinly celebrate playing golf at Buffy's favorite golf course, Ballyowen Golf Club. We are blessed. We have had a regular, but strange visitor to our hummingbird feeder, a woodpecker that thinks he's a humming bird.
| | |
| --- | --- |
| Buffy & John celebrated anniversary with Starter Bill at Ballyowen GC. | Our woodpecker is a regular visitor and he thinks he's a humming bird. |
*
Getting together to celebrate life and birthdays is always fun. Portofino's Restaurant on Birkshire Valley Road is a favorite place to celebrate. We also recieve a Birthday voucher as Members of Minerals Spa which we use to celebrate our birthdays even though our birthdays are in March. Talk about stretching the party.
| | |
| --- | --- |
| Buffy & John celebrated life and family at a dinner at Protofinos - Front: sister Peg, Grandaughter's Lil and Mer, and daughter Denise | Buffy & John celebrated their traditional romantic "birthday" dinner at Kites Resturant thanks to "Birthday Vouchers" provided to Minerals Spa members |
* Golf continues to be fun. Buffy and John compete in the Crystal Springs monthly Crystal Cup Qualifying Tournaments in the hope of qualifying for the end of year championship. Both have won skill prizes; Buffy for Ladies Longest Drive and John closest to the pin.
| | |
| --- | --- |
| Buffy getting ready to play a Crystal Cup match at Ballyowen GC | John gets his close to the pin prize from friends Matt and Adam |
* The 21st 2016 Poppa Lou Golf Classic was held on Saturday, July 16th at the Blackhead Mountain Golf Resort. It was a blast! Check out the photographs posted on Facebook in the album "2016 21st Annual Poppa Lou Golf Classic". The 22nd is scheduled for Saturday, July 15, 2017. Mark your calendar and join us.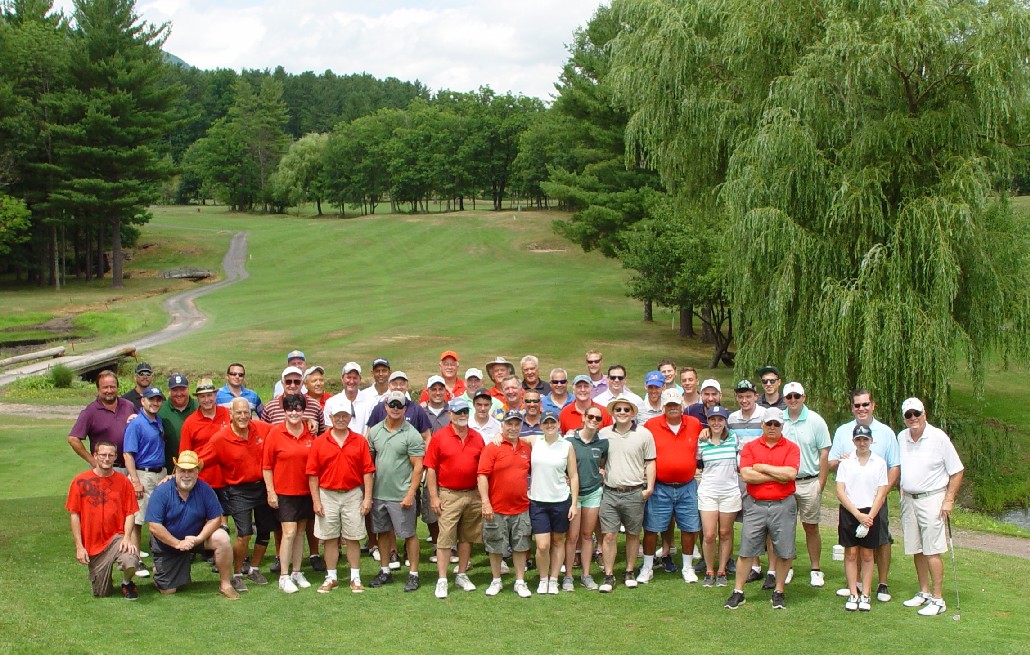 The golfers in the 2016 21st Annual Poppa Lou Golf Classic
* The 16th Cape Cod Invitatioal Golf Classic was held Friday & Saturday, June 17th and 18th hosted by our buddy Dan Howe. It was another fun time on the Cape with golfing buddies. We had a chance last weekend to meet our newest ski buddy, Vivienne, Joe and Steph's new baby girl at the Mt. Creek Biergarten. We are bringing her up right.
| | |
| --- | --- |
| The golfers in the 2016 Cape Cod Invitational Golf Classic | Joe, Stef, Viv, Buffy, John, Bonnie & Rich bringing up baby right! |
* The golf season continue with Buffy dominating the season long competition between Buffy and John and winning prizes at the Crystal Springs Crystal Cup Championships. It is always fun to get out and play in another fun event with friends as we did with Joel and Jennifer at the BIG Friday at Black Bear GC.
| | | |
| --- | --- | --- |
| Buffy & John at the par 3 6th hole at Ballyowen GC | Buffy wins Women's low net at the 3rd Crystal Cup | Buffy & John with Joel and Jen at Black Bear GC |
* The 22nd HV Closed was held on Saturday, May 14th at the Hidden Acres Golf Course with the usual suspects enjoying the event and the party after at the Flat Brook Tap House. Team Whiting tied with a 5 under par 65 but came in 2nd on a match of cards. Winnings and money from the raffle was donated to the Adaptive Sports Program at Mountain Creek in the name of the HV Closed and passed friends, Matt McDermott, Chris Heidebrect and Jack Powers. It was another rotten day in Heaven!
| | |
| --- | --- |
| The usual suspects gathered for another fun day of golf and partying at the HV Closed | John, Buffy, Rick & Bill did OK. Tied for 1st. Lost match of cards |
| Rules are rules! Buffy helps Ritchie dress like a lady to make his team legal. | Buffy is always a winner. This year it was Lady's longest drive. |
B_JFriendsLegacySportsBarWeb05072016.JPG
* With the 22nd HV Closed Golf Classic coming we decided to take a trip south to practice our golf game. We spent 5 days at the Orange Lake Resort and played 5 rounds of golf at the 2 Resort courses: Legends and Reserve. Guess who won? Buffy won 5 - 0 with John taking honors for closest to the pin and low putts on a couple of days. It was fun!
| | |
| --- | --- |
| Buffy & John on the par 3 at Legends Golf Course - Orange Lake Resort | Buffy hits a great tee shot on the par 3 at the Reserve Golf Course |
| Buffy & John ask a gator to retun John's ball at Legends Golf Course | What would golf be without an adult beverage at the 19th hole with friends. |
* As the days get warmer Buffy and John are balancing between preparing for the 22nd Annual Hidden Valley Closed Golf Classic scheduled for May 14th and the 21st Poppa Lou Golf Classic scheduled for Saturday July 16th and having fun playing golf and enjoying some of the local hot spots like the Airport Pub with friends. We played in the 1st Crystal Cup Golf Tournament on April 20th and finished 2nd in our Division and stopped by the Airport Pub to have a few adult beverages on Saturday April 30th.
| | |
| --- | --- |
| Buffy & John wait to tee off at the 1st Member Crystal Cup Tournament at Black Bearr | Buffy & John on Linda's bike at the Airport Pub |